It wouldn't be controversial to say that since launching in 2008, Spotify has turned the music industry upside down.



In 2014, the streaming service offers more than 20m songs to 40m active monthly users. Last year, it delivered 4.5 billion hours of music across the world. And since May individual plays on the streaming service are even taken into account by the Official Charts Company.

The success of this very 21st-century brand is a great advert for the power of big data. According to Jason Palmer, lead engineer at Spotify, the company "strives to be entirely data driven". He said:

"We are a company full of ambitious, highly intelligent and highly opinionated people and yet as often as possible decisions are made using data.

"Decisions that cannot be made by data alone are meticulously tracked and fed back into the system so future decisions can be based off of it.
"How fantastic is that? It sounds robotic, but humans cannot be trusted so it's cool."
How does Spotify utilise big data?
Before the internet, listening to music at home was an intensely private experience. Music fans would listen to their favourite records and LPs from the sanctity of their bedroom and no one would know if they secretly enjoyed that Bananarama b-side. Likewise, in a pre-web world, music labels knew when someone had bought a 7", 12" or CD, but had precious little information on what happened after that.

Today, Spotify's analytics (as well as data from torrent sites, streaming platforms and social media sites) means that there aren't many ways for people to listen to music without others knowing about it. Experts have estimated music analytics to be worth nearly £2 billion per year.

Earlier this year, Spotify purchased the music data company The Echo Nest for a rumoured £60 million. Thanks to The Echo Nest, as well as its own open-source data flow framework Luigi, Spotify now has a detailed analytical database that contains a trillion data points around 35m different songs. This data, sent automatically through secure data transfer, informs the process in which it recommends new music and creates playlists.

It also informs advertising. 20% of Spotify's listeners are paid subscribers, while the remaining 80% are subject to audio and visual adverts. Ever-sophisticated data analysis means that the platform can offer lucrative targeted advertising opportunities to relevant brands.
Spotify's Insights
An example of the huge variety of data that Spotify has at its fingertips is shown on its Insights blog. Its data expert Eliot Van Buskirk posts detailed analytical pieces about worldwide listening habits, playlist behaviours, genre differences and the statistical effect that third-party festivals like Bonaroo have on streams.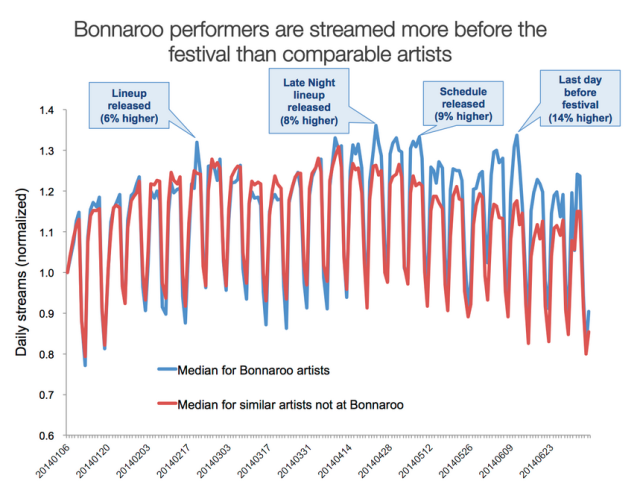 In short, big data gives Spotify incredible insight into user behaviour. Its 'Discover' page taps into its analytics to help users find bands and songs they may never have heard before – and crucially keeping them listening on the platform.

What's more, its wealth of data also informs Spotify's increasingly sophisticated digital radio stations. US digital radio advertising grew by 26% in 2013 – compared to an offline fall of 1.2% – and big data is helping the streaming site make a splash in this lucrative industry too.

Find out about Maytech's secure data transfer solutions

Quatrix® from Maytech is a completely customisable secure file transfer solution that allows companies to build extensible, state of the art data automation infrastructures. Find out more today.