Businesses that rely on sharing large amounts of information need to have a solution that not only achieves the required level of security and compliance, but also provides adequate functionality to ensure file transfers are conducted as easily as possible in a controlled manner. In the olden days before software became readily available to everyone, old school style corporate business file sharing solutions were typically selected by the IT department with little attention paid to end user usability.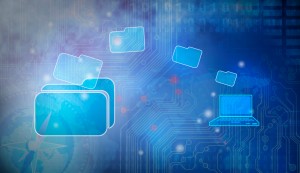 The fact is that nowadays corporate level solutions no longer need to be over-complex or difficult to use. There are plenty of consumer level file sharing solutions that are a breeze to set up and use, and most of them have robust enterprise level variances, normally via a Cloud based premium subscription service.
If your organisation has invested in a business file sharing solution in the past, it is likely that it is more complex to use than is required. This could be due to good technical reasons, but is more likely to do with the old adage "If it isn't broke, don't fix it". Selecting and implementing a core corporate level solution is seen as a very time consuming and costly process. But it doesn't have to be.
Since the business decision makers last looked at what they use, a whole new generation of Cloud based file sharing solutions have hit the market, delivered as a subscription service. And what's more, they are generally very easy to implement and use, even at an enterprise level. If a savvy approach is used, you can easily trial a number of potential solutions without going through a 30 step process involving a full on project team.
If your business solution seems cumbersome and over complex, we recommend a discussion with your IT champion to compare your current file sharing solution with these new-age, subscription based solutions.
Of course any serious candidates will still need to be formally tested against strict criteria set out at both a business and security level, but this can be performed much quicker and cheaper than in the past. Why? Quite simply, a Cloud based service does not require expensive infrastructure or detailed technical expertise to test or implement the solution.
In summary there are many advantages in considering a replacement solution:
There are many competitively priced solutions readily available in the market place
They are easy to set up, not requiring any infrastructure or expensive technicians
They can be tried and tested for free using sample files and data without impacting day to day business
They will be very easy to use and administer, resulting in a high level of day to day operational savings
They are likely to save a lot of money and offer an excellent return on investment
They come with enterprise level of security and compliance requirements
Upgrading your corporate software to make it more usable might seem like a huge undertaking but it really doesn't have to be. And as with anything else in the world of technology – if in doubt – ask an expert such as Maytech. Contact us today to learn more!
Keep updated: #DataOnBoard