There's nothing sexier than big… stats! And you don't get stats much bigger than the ones created by the Super Bowl, after all it is one of the most watched events on TV. Everyone from school kids to international companies geared up for this event in different ways.
Thanks to the beauty of modern data, we can now see almost everything there is to see surrounding the Super Bowl. Here are some of the most interesting facts, figures and data created during this game:
Who's Watching?

In 2015 (or XLIX if you're that way inclined), the Super Bowl smashed all viewing figures with a staggering 49.7 rating – the largest figure to date. In real terms, the game had a 72 share – which means that 72% of televisions that were on during the Super Bowl were tuned into the Patriots' 28-24 victory over the Seahawks.
Image: Katy Perry - Super Bowl XLIX Halftime by Huntley Paton CC BY-SA 2.0
When you consider that the USA has 116 million homes with TV, that's 83,520,000 homes watching the big game. That's more than some countries' entire population! Bearing in mind, that's looking at homes – not viewers – which peaked during the last quarter with over 120 million people tuned in.
Going to the Game
Not everyone was watching on a TV however, approximately 69,700 people watched along live at the Superdome. But how much did it cost to go to the game?
Ticketmaster revealed that the lowest priced ticket for the Super Bowl was $2,387, while the most expensive ticket came in at $13,120! Even if you take the lowest priced ticket to discover how much money a full house would have added up to, you'd be looking at a staggering $166,373,900!
This said, in the final week before the Super Bowl only 20 tickets cost less than 10k and even then, you wouldn't be getting much change back either.
Internet Usage
At the stadium there was a Wi-Fi connection provided by Purview and they provide some incredible stats, for example:
At its peak, 13,500 people had connected to the Wi-Fi
An incredible 3.2TB of data was transferred across the Wi-Fi broadband at an average rate of 50MB/HR – not exactly a prime example of fast file transfer
The largest use for being connect to Wi-Fi was to access and engage with social networks
More than 5 pictures a second were uploaded to Instagram through Wi-Fi
Mobile data in the stadium wasn't much different, with Verizon reporting that their customers "racked up more than 25 million wireless connections" with data usage mounting up to 4.1TB during the game. Sprint decided to provide very specific information, showing that their 4G users massed up an impressive 754GB of data. Meanwhile T-Mobile, despite being the fastest, trailed behind in data use with their customers only drumming up 430GB of data throughout the game.
.@FierceWireless You missed the most important stat!! @TMobile was the fastest in Phoenix Stadium! pic.twitter.com/sMiTAkVUaL

— John Legere (@JohnLegere) February 4, 2015
Hungry Homes
With this many people locked-on to the game, you can only imagine how much food and beer was consumed during the four hour event. Well, imagine no more! Thanks to some rather peculiar stats, we now know just how much is consumed across America during game play: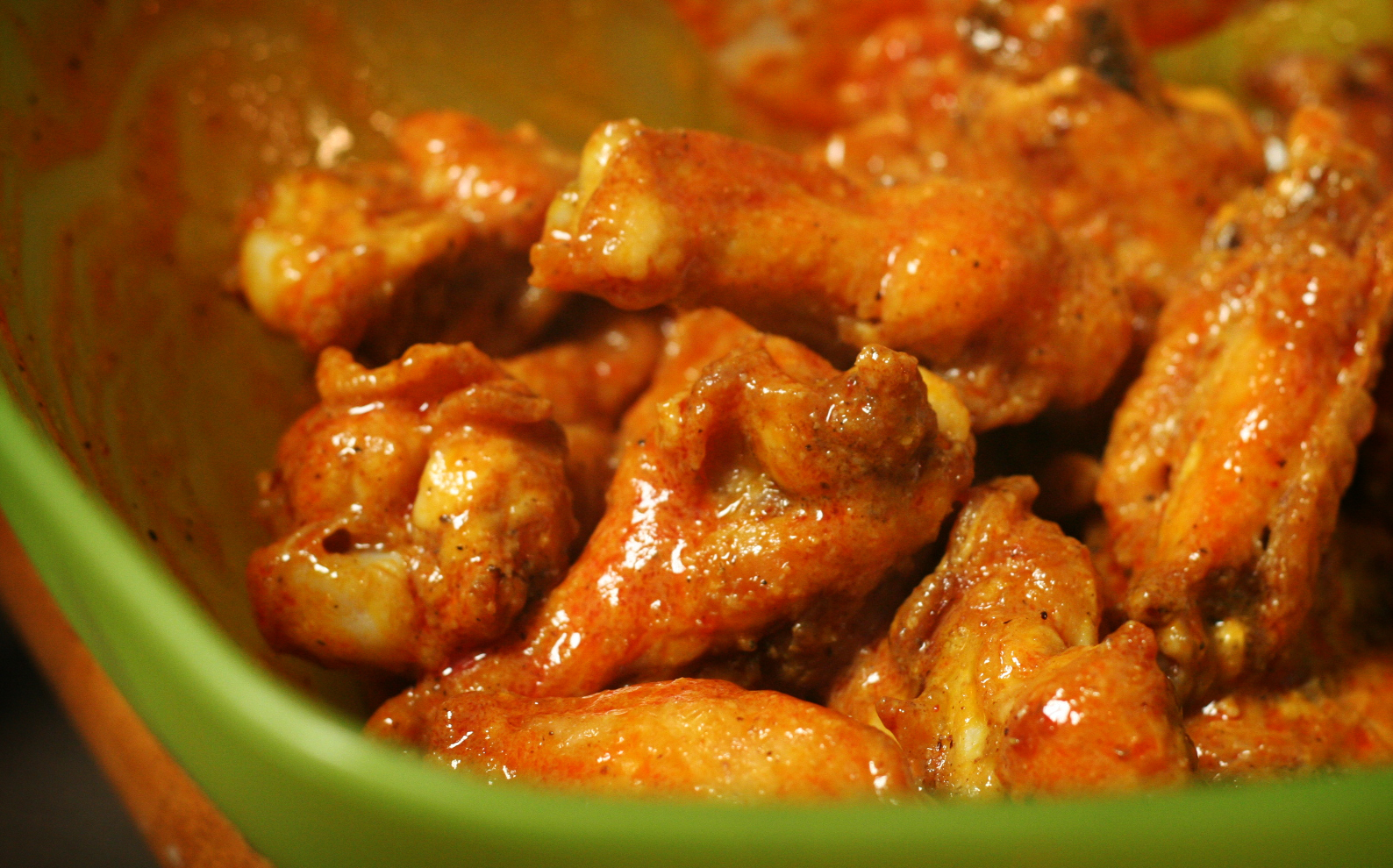 1.25 billion chicken wings
11.2 million pounds of potato chips (crisps to the Brits)
4 million pizzas
50 million cases of beer – 94% of which is either Budweiser, Coors or Millers
This all equates to around $1.02 billion spent on snacks and a further $49.3 million spent on beer. That is a huge amount of money and food by anyone's standards!
[Image:free to use]
Blowing Advertising Budgets
According to the latest figures, if you wanted a 30 second advert on this year's Super Bowl you'd be likely to pay upwards of $3.5 million! With a ground-breaking audience, you can bet your bottom dollar that they earned their worth.
So how many adverts were played? A whopping 115, with some being played more than once. In fact, more than a third of the Super Bowl's air time was taken up by adverts. This means that you had a one in three chance that if you looked up from sucking down a beer or gobbling chicken wings, you'd see an advert rather than the game.

Image: Bloomberg Business
Out of the adverts played, there were nearly 13 minutes of companies trying to sell theirs cars and trucks – based on 30 seconds costing 3.5million, overall this would have cost the industry 45.5million in advertising.
Other than cars, what was popular?
TV shows and movies
Food and drink
Insurance
Beer
Tech
Popular themes for this year's adverts were definitely animals and nostalgia, with plenty of pop culture references from the 70s, 80s and 90s and a huge amount of animals – 9 ads with a dog, 3 with a penguin and 2 with screaming goats!
Seriously Social Super Bowl
What was the everyday public saying about the Super Bowl? Anything they could by the looks of it! Both twitter and Facebook saw huge amounts of engagement from their users, with each fighting for their position to be seen as the "second screen" to turn to during big events.
Facebook boasted that 65 million people chimed into the Super Bowl discussion on the Sunday. Twitter didn't mention how many users were on the service during the game, but they did report that there were 28.4 million Super Bowl-related tweets sent out with the key spikes happening at 7.30pm CST and just after 9pm CST.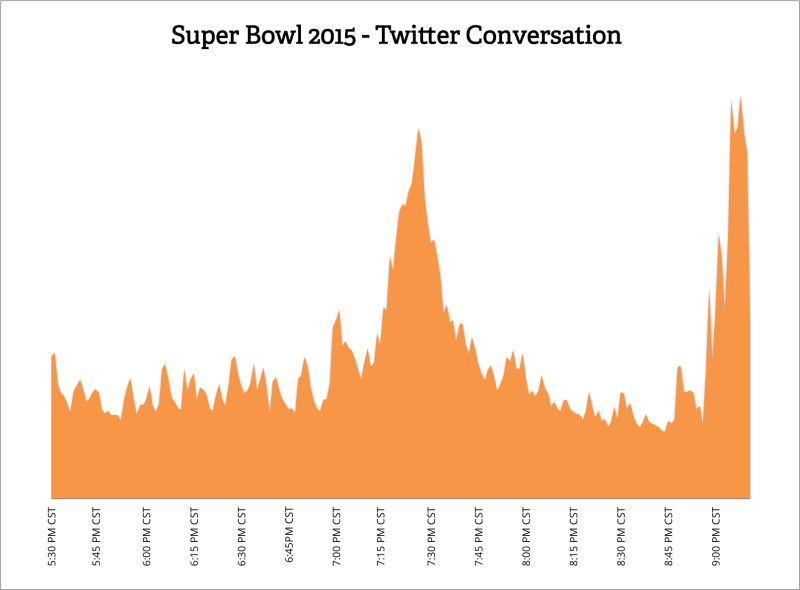 Image: marketingland.com
Advertising definitely paid off for the big brands here with Pepsi receiving over 67.5k mentions with more than 94% of them being positive. The most popular mention was #PatriotsWin seeing 105,000 total mentions by the end of play – goes to show that social campaigns still doesn't beat the actual game.
What was the overall viral amplification of this event? According to statistics, the total potential reach of the Super Bowl over social media was over 1billion people. That's very impressive when you think that it is nearly 10 times the amount of people who were actually following the game live.
Enough Stats for You?
There you have it, more stats than you could shake a stick at! You have everything from how fast file transfer was at the stadium to how many screaming goats were shown in the adverts. Thanks to modern technology we have more information now than ever before, allowing you to look in minute detail at everything that happens during a big event.
Interested in how big data is collected, transferred and used? Talk to us today about our wide range of solutions to help with everything from fast file transfer to PCI compliant data hosting.